Drew Brees named SI 'Sportsman of the Year.' Who else could have been picked?
Drew Brees, who led the New Orleans Saints to a Super Bowl win in February, has been selected as 'Sportsman of the Year' by Sports Illustrated. Does Drew Brees deserve it? Who else could have been so honored?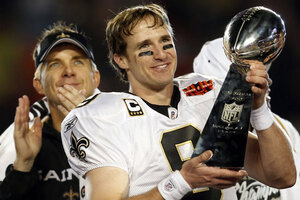 Jeff Haynes/Reuters
When you think about it, Drew Brees is the logical and sentimental choice to be Sports Illustrated's "Sportsman of the Year." SI singled out the the New Orleans Saints signal caller for a championship season on the field – and, more importantly, for the way he and his wife have worked to help New Orleans recover from Hurricane Katrina.
But who else in the world of sports deserved a shot at the prize? We've been considering the choices.
Some might say pro football players have an edge: The NFL is in full swing and top of mind now, just as SI is making its annual award announcement. By that logic, either former SI sportsman Tom Brady of the Patriots or Eagles QB Michael Vick would be better choices because they're both having a better fall season than Brees. On the other hand, their on-field performances are not that far beyond that of Brees, who has New Orleans one game behind the Falcons in the NFC South and in playoff contention.
In other sports, there were several candidates to challenge the Brees pick.
---