Jets-Colts: Can Rex Ryan get the New York Jets past Indianapolis?
Jets-Colts Preview: The New York Jets could not stop the Indianapolis Colts in last year's AFC Championship, but they are looking to reverse that trend on Saturday night. The NFL season begins again today with the start of Wildcard Weekend.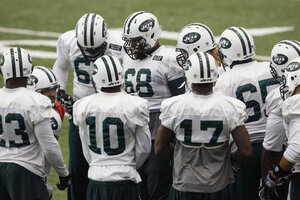 Mel Evans/AP
The offense of the Indianapolis Colts has been playing extremely well, and the defense has come alive. The New York Jets must put pressure on Peyton Manning to have a chance to pull out a victory.
Jets head coach Rex Ryan's season has been ended twice in the playoffs by the Colts, last year and once when he was the defensive coordinator of the Baltimore Ravens in 2007.
But are the Jets emotionally ready to win this playoff game? Ryan says it's personal.
"We are not going to Indianapolis to lose," Ryan said. "We are going there to win. This is about this year, and I've waited a full year for this."
"I don't know when I'm going to beat him, but I want it to be Saturday night," he said. "Is it personal? Yes, it's personal.
It's personal against him, Reggie Wayne, all those guys, yeah. (Dwight) Freeney, and (Robert) Mathis and those other dudes? Absolutely.
---