Trust broken, millions apart, NFL players and owners head to court
After 16 days of hard negotiating, the NFL and its players failed to reach a contract agreement by a 5 p.m. deadline. The players' union disbanded in order to take its case to court.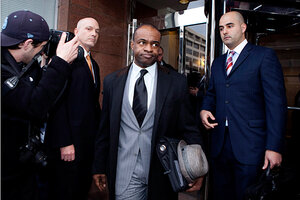 Joshua Roberts/Reuters
Shortly after 5 p.m. Friday, the National Football League Players Association (NFLPA) officially disbanded, opting to fight the NFL and its owners in court rather than bargain across the table.
The move set the stage for the sixth work stoppage in NFL history and cleared the way for the league's third outright lockout of players.
The negotiations, refereed by federal mediator George Cohen and twice extended beyond the original deadline, have in part been public theater. Both parties have now arrived at what they had been expecting for nearly three years: a lockout that will test the constitution and patience of players, owners, sponsors and, ultimately, fans.
Most dramatically, the decertification of the union allows star players like Tom Brady, Drew Brees, and Peyton Manning to sue the owners of their football teams. The legal drama will play out in the Eighth Circuit Court of Appeals in Minnesota, where federal Judge David Doty – who has already ruled once on behalf of players and against the league – will now hear a flurry of filings and injunction requests from both sides.
---