Barry Bonds trial: A strong case for steroid use, but the charge is perjury
Baseball's Giambi brothers, admitted steroid users, testify at the Barry Bonds perjury trial in a San Francisco federal court that they knew what Bonds's trainer was giving them.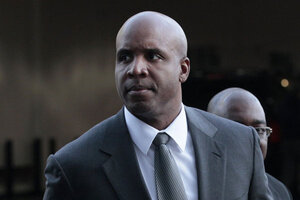 Jeff Chiu/AP
Federal prosecutors trying Barry Bonds for perjury have so far presented a strong case with testimony from several witnesses that the record-setting retired baseball player did in fact use steroids, say legal experts.
But that case – and whether the jury buys it or not – is beside the point, they add. The question the government needs to prove, they say, is whether or not Mr. Bonds lied about it in 2003 testimony to a grand jury investigating alleged steroid use.
Bonds, Major League Baseball's record-holder for home runs in a career (762) and a season (73), is being tried at the federal courthouse in San Francisco, accused of lying to a federal grand jury for testifying in 2003 that he never knowingly used performance-enhancing drugs.
"They've put on a well-organized case that has done just what they said it would at the beginning, which is to show through multiple witnesses that Bond's physique changed, he had mood swings, showed aggression," says Caleb Mason, a professor of law at Southwestern Law School in Los Angeles.
He says the judge may still instruct the jury to throw out certain details they have heard – specifically some, but not all, of the testimony from a former girlfriend who might be motivated to smear Bonds. And, Professor Mason says, the defense has yet to put on its case, which is likely to concede Bonds' use of steroids but deny that Bonds knew about it.
"The defense has several story lines they can go after, from the possibility that he was a guinea pig for his trainer testing relatively new substances, to the motivation of his mistress to get revenge after he cut her off," says Mason.
---