In Barry Bonds's wake, a trail of broken lives
The Barry Bonds trial has played out like a daily morality play, offering an unvarnished look at how sports stars' entourages can be made and ripped apart by fame, wealth, and scandal.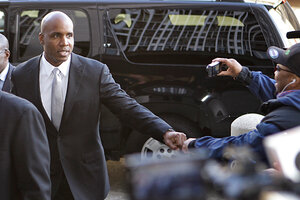 Paul Sakuma/AP
Three weeks into home run king Barry Bonds's perjury trial, testimony from some of the prosecution's witnesses has exposed how the lives of some of those in Bonds's inner circle have been torn apart in the eight years since the steroid scandal emerged.
If the testimonies are true, Bonds's ex-mistress views her extramarital affair with the former San Francisco Giants slugger as taking years out of her life, leaving her with little to show for them.
Two of Bonds's childhood friends, a brother and a sister, are now estranged from Bonds and the sister feels betrayed by the brother.
And his former personal trainer is now in jail.
While the tales of players and their entourages have become standard fare for the modern American professional sports fan, the stories unfolding in a federal courtroom in San Francisco in some ways represent something unique. They have offered an intimate and unvarnished look at how money and celebrity can become corrupting influences in the lives of the people surrounding them.
"There's a saying among financial analysts: The more money that's involved, the less likelihood for an ethical outcome," said Marianne Jennings, a professor of legal and ethical studies at Arizona State University who has written about Bonds and the steroid scandal.
All four of these individuals had become dependent on Bonds for "a lifestyle that they could not have paid for on their own and, once they got a taste of that, they can't give it up no matter what they see," she says.
Bonds faces one count of obstruction of justice and three counts of making false statements to a federal grand jury in 2003, when he denied knowingly using banned performance-enhancing anabolic steroids.
---
Follow Stories Like This
Get the Monitor stories you care about delivered to your inbox.