Los Angeles Lakers vs. Dallas Mavericks: In Big D, that's D for determination
The Los Angeles Lakers play the Dallas Mavericks in Game 2 of their NBA Western Division playoff series. What must the Lakers do to win? The game starts Wednesday 10:30 p.m. Eastern time.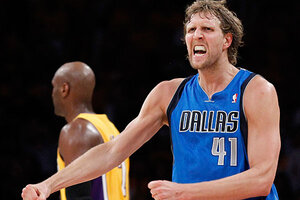 Danny Moloshok/Reuters
The Dallas Mavericks, in the previous four seasons, haven't gotten past the first round of the NBA playoffs.
But that was then.
Since blowing a 23-point lead in Game 4 of their initial-round Western Division series against the Portland Trail Blazers, the Dallas Mavericks have demonstrated the resiliency of a championship team. The Maverick's 96-94 comeback victory over the Los Angeles Lakers Monday night was more confirmation of the mental toughness that's becoming a hallmark of this team.
In fact, it was the Lakers – winners of the past two NBA crowns – who looked uncharacteristically lost on their home court. In the fourth quarter, the Lakers had two key turnovers and a bad foul by Pau Gasol in the last half-minute which contributed to a huge comeback by the Mavericks – who erased a 16-point deficit.
Help from the bench
And even with L.A. outrebounding Dallas 44-40, the Mavericks spread the ball efficiently through a balanced offensive attack, with five players scoring in double-figures. Guard Jason Kidd has proven critical to Dallas' fortunes since they acquired him from the New Jersey Nets in 2008. The number-two all-time NBA assist leader logged eleven of them in this game. And with strong performances off the bench by forward Peja Stojakovic (10 points) and guard Jason Terry (15 points), the Mavericks' starters got some additional rest. In fact, the Dallas bench as a whole put up 40 points to the Lakers' 25.
---