NFL deal reached: 'Football is back,' let the Brett Favre watch begin
NFL deal makers came to a compromise to end the 132-day shutdown Monday. The NFL deal will unleash a chaotic period of free agency, as well as the annual question: What about Brett Favre?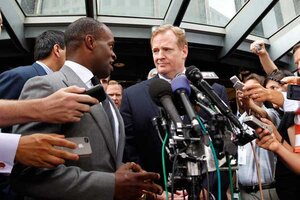 Kevin Lamarque/REUTERS
"NFL is back. WHO DAT!" is how Louisiana Rep. David Vitter and obvious New Orleans Saints fan reported the end of the National Football League's longest labor stoppage on Twitter.
After months of fans trying to figure how a bunch of rich footballers and their even richer owners could possibly be bickering about money, the NFL floodgates got ready to be released Monday as fans cheered and owners, coaches, and fantasy football players got ready for a historic roster scramble to put together a Super Bowl winner. Rookies must be signed, free agents wooed, and trades made – many in the space of a week – if teams don't want to fall behind.
Yes, you know football is back when discussion heats up over whether Brett Favre will un-retire again. Will he go to the Eagles to replace Kevin Kolb as Michael Vick's backup? His agent says no. Finally, discuss.
The four-month lockout had plenty of acrimony, muscle-flexing, and bad-mouthing.
But soon after NFL Commissioner Roger Goodell and players' union executive director DeMaurice Smith ditched the lawyers and began free-flowing conversations on the phone, the league and players crossed the goal line on a fruitful 10-year deal: A compromise on revenues, a "legacy fund" for retired players, a road map for continued growth for the league, and more money in the pockets of players, without whom football in America would be of the flag variety.
---
Follow Stories Like This
Get the Monitor stories you care about delivered to your inbox.