Eli Manning as good as Tom Brady? Not by the numbers
Eli Manning said he's in the same group of quality NFL quarterbacks as the Patriots' Tom Brady. What do you think of Eli Manning's assessment?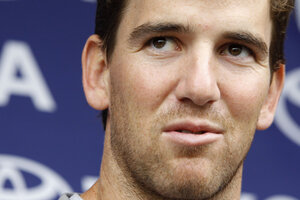 Julio Cortez/AP
New York Giants quarterback Eli Manning has played seven seasons in the National Football League.
In that time frame, the Giants have won 65 games, a pair of division titles and a Super Bowl championship. Manning has also thrown for 156 touchdown passes versus 113 interceptions during that stretch. Based on those numbers, one could say Eli has had a productive career to this point and he compares favorably to some of the top quarterbacks in the NFL.
But Manning has a way to go to get into the Top 10, let alone the Top 5. His QB rating last year, according to Yahoo Sports, was 85.3 or 17th in the league. Tom Brady's rating was 111, which put him in the No. 1 slot. Eli's older brother, Peyton Manning came in at 91.9, which put him at No. 10. What hurt Eli Manning the most in the 2010-2011 season was interceptions. He lead the league with 25. Brady had 4.
---