How rage over Jerry Sandusky sex-abuse scandal engulfed Joe Paterno
Joe Paterno could be brought down by the public anger surrounding sex-abuse charges leveled at former Penn State coach Jerry Sandusky.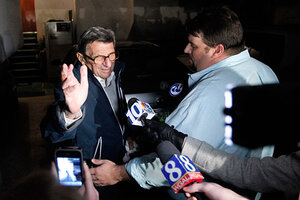 Matt Rourke/AP
The future of a legendary coach, a storied football program, and the course of a university appear to be at stake as the fallout from the sexual-abuse allegations leveled at a former Penn State football coach grows.
Reports suggest that Joe Paterno, the winningest coach in Division I football history and architect of Penn State's rise to national football prominence, could be forced out by the end of the week. Some public-relations experts don't see how university President Graham Spanier can keep his job, either.
Activists seeking to expose and combat sexual abuse say there are lessons to be learned from the story. But, to many, the allegations are so heinous that any attempt at moderate discussion – about what Mr. Paterno actually knew, about how universities should respond – seems almost impossible in the current climate.
"I really like to discuss issues that are debatable – issues where you can pick a side and defend it, where you can make an argument that a reasonable person might not agree with, but that they can understand," says Bob Schneider, a professor of sports management at the State University of New York, Brockport, in an e-mail. "But I'm having a really hard time finding the other side on this one."
"It's pretty clear cut," he says. "The court of public opinion is going to have their say on this one. And it's not going to be kind to Paterno, to the president, or to anyone else involved with the situation at Penn State. Most people have kids. And they're not only flabbergasted by this incident, they are outraged."
According to an indictment, Jerry Sandusky, who served as Paterno's defensive coordinator for 23 years before resigning in 1999, raped a young boy in the shower of the Penn State football complex in 2002. Police say he sexually abused eight young boys over 15 years from the late 1990s to 2009, a period that includes four years while on Penn State's football staff.
A graduate student saw the alleged incident in the shower and reported it to Paterno, who in turn reported it to university officials, but no action was taken, according to the indictment. Paterno told a grand jury he had never been told the graphic details.
Both the athletic director, Tim Curley, and the vice president, Gary Schultz, have been charged with perjury and accused of failing to report the matter to state and county officials.
---