Tim Tebow: Where does he go now? Four teams that might fit.
Tim Tebow is surely gone now that Peyton Manning has chosen to join the Denver Broncos. The question now is whether any team wants to adapt itself to the Tim Tebow style.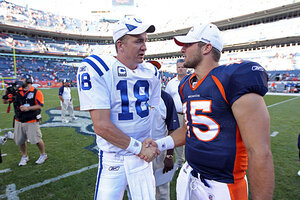 Greg Trott/AP/File
Two months ago, fresh from the playoffs, Denver Broncos general manager John Elway said that quarterback Tim Tebow had "earned the right to be the starting quarterback going into training camp next year."
Now, the only way that will happen, it seems, is if Tebow is on another team.
According to news reports, former Indianapolis Colt Peyton Manning has chosen to join the Broncos, and a contract is expected to be worked out soon. That almost certainly means the end of "Tebowmania" (not to mention the "Tebowing" meme) in Denver.
Why couldn't Tebow become Manning's understudy?
For one, Tebow is a running quarterback with poor passing skills. He would likely have trouble serving as a backup in an offense tailor-made for Manning, who relies on quick releases from an accurate arm and an ability to read a defenses.
What's more, Manning is famous for hoarding practice time. In Indianapolis, his backups took few snaps in practice and therefore got little opportunity to learn the offense Manning runs. For Tebow, a fierce competitor who needs to work on his development, such a fate would probably be far worse than being traded.
So who might want Tebow?
By all accounts he is a tireless worker and a fast learner, and the Broncos proved that a team willing to craft an offense around his running style can have success – and even win a playoff game. Moreover, his fervent following would virtually guarantee fans in seats for franchises with attendance problems.
---