Kentucky stands tall to win eighth NCAA championship
In New Orleans' Superdome last night, the Kentucky Wildcats got six blocks and twenty rebounds from center Anthony Davis, along with a balanced scoring attack from their other starters to defeat the Kansas Jayhawks, 67-59.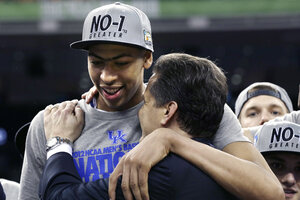 David J. Phillip/AP
The Superdome in New Orleans has known great tragedy in its past. But last night, it saw the height of jubilation (for Kentucky Wildcat fans, at least), as Kentucky employed every one of its offensive and defensive weapons to easily defeat Kansas, 67-59, capturing its eighth NCAA men's basketball championship. Kentucky led by as many as eighteen points in a couple of instances during the evening, and only a 13-3 run by Kansas in the second half prevented this game from being a total blowout.
Anthony Davis, widely regarded as this year's best overall college basketball player, had only one field goal in ten attempts; but contributed mightily in other areas – including twenty rebounds (sixteen of them defensive), and six blocked shots. And when he wasn't outright blocking shots, he was causing the Kansas shooters to hurry or alter their attempts – particularly when they were driving the lane. It's conceivable they would have been as successful scoring under the net blindfolded. Overall, Kentucky players blocked eleven Kansas shots as opposed to five total for the Jayhawks.
Kentucky's dynamic forward Michael Kidd-Gilchrist and clutch guard Marquis Teague were supplemented in their double-figure scoring performances by the outstanding contributions of guard Doron Lamb, who tossed in 22 points to help keep the Wildcats out in front almost wire to wire. The trio combined to shoot 54% from the field.
---