Jamie Moyer leads baseball's Ageless Wonders All-Stars
The Rockies hurler becomes the game's oldest pitcher to win a major league game, inspiring the selection of an entire lineup of players who stretched the age envelope.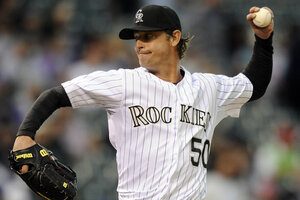 Chris Schneider/AP
Jamie Moyer of the Colorado Rockies broke a Major League Baseball age barrier Tuesday night by becoming the oldest pitcher to ever win a game at age 49. He handcuffed the San Diego Padres for seven innings, picking up the "W" in a 5-3 victory.
The performance proved that the Rockies didn't simply put Moyer in the team's starting rotation as a ticket-selling gimmick, which has happened. Does anyone remember, for example, the Chicago White Sox bringing Minnie Minoso out of retirement for two games in 1980, at the age of 55, so that he could play in four different decades?
Moyer's place on the Colorado Rockies is no AARP stunt. He still can get batters out, and not with either overpowering stuff or an elusive knuckleball, which has been the low-stress delivery that most often has led to pitching longevity. Hoyt Wilhelm and Tim Wakefield come to mind.
Moyer's 78 m.p.h. fastballs barely warm up a radar gun, but he is a crafty mound artisan who keeps hitters off balance with changes of speed and location and enough movement in his pitches to make solid contact a challenge. Against the Padres, he gave up only six hits and two unearned runs.
---