NBA playoffs: 76ers beat Celtics, force Game 7
The Philadelphia 76ers defeated the Boston Celtics, 82-75, Wednesday night at Philadelphia's Wells Fargo Arena, setting the stage for a seventh and series-deciding game in Boston on Saturday.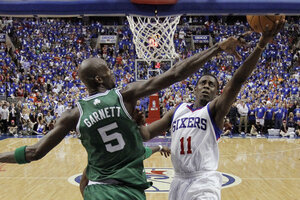 Matt Slocum/AP
Boston Celtics head coach Doc Rivers has referred to games like Wednesday night's grinder against the Philadelphia 76ers as being "played in mud." It was certainly ugly all around, but the 76ers came away with the victory, 82-75, in Philadelphia, forcing a seventh game at Boston Garden on Saturday night. Allen Iverson, the former 76ers star guard who appeared to thunderous applause before the game, might have said that the best way to win a playoff series at Wells Fargo Arena is "practice, practice, practice." The Celtics should have taken some of that advice to heart, because for most of Game 6, they looked completely flummoxed.
It wasn't all bad news for the Celtics, who got 24 points from Paul Pierce, including 13 for 13 from the free throw line. And Kevin Garnett almost single-handedly kept Boston close throughout the fourth quarter by contributing 20 more. But no one else on the Celtics reached the ten-point plateau, with both Rajon Rondo and Ray Allen tossing in nine apiece.
---