Penn State sanctions: NCAA aims to end 'mindset' that led to tragedy
Penn State sanctions rival the worse NCAA penalty ever, including a $60 million fine, a four-year ban on bowls, and 40 fewer football scholarships. But sanctions also aim to scale back the outsized role of football on campus.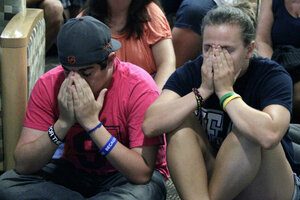 Gene J. Puskar/AP
In explaining NCAA sanctions on Penn State University for allegedly covering up long-running sexual abuse by an assistant football coach, NCAA President Mark Emmert didn't mince words.
"An argument could be made that the egregious behavior seen in this case was greater than any other seen in NCAA history," said Mr. Emmert at an Indianapolis press conference Monday.
It was at this press conference that Emmert announced sanctions on Penn State University and its football team that rival any punishment ever meted out by college sports' chief governing body – including the so-called "death penalty" levied on Southern Methodist University in the mid-1980s.
But how do Penn State's sanctions compare to those meted out against the Mustangs, who until today were college football's most infamous "death penalty" case?
In Penn State's case, the NCAA sanctions can be broken down into two broad categories: punitive and corrective.
On the punitive side are the headline-making figures. A $60 million dollar fine to be paid no less than $12 million per year for an endowment supporting "programs preventing child sexual abuse and/or assisting the victims of child sexual abuse." The school can't cut other sports to pay the fine, nor can it use the proceeds of the fund to pay for programs at Penn State.
The football team is banned from post-season bowl competition for four years and sees its annual allotment of scholarships cut from 25 to 15 over that same time frame.
---