Ryder Cup recap: Europe storms back Sunday to keep the cup
Ryder Cup: Reversing an outcome 13 years ago in Brookline, Mass., Europe won the bulk of Sunday's singles matches to capture golf's most prestigious team competition.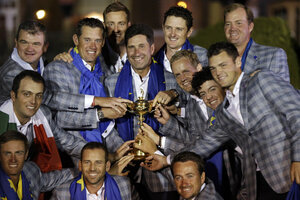 David J. Phillip/AP
"Colossal choke in Chicago." "Miracle at Medinah." "Impaled in Illinois."
Call it what you will, but it's another Ryder Cup victory for the Europeans. On Sunday at the Medinah Country Club near Chicago, the visitors retained the cup, 14 1/2 points to 13 1/2, returning the favor from 13 years ago, when the US stormed back to win the Cup in Sunday singles.
By Saturday night, US squad had done well to build a 10-6 lead, winning most of the two-man team competitions. But as Yogi Berra once said, "It ain't over 'til it's over."
Many observers pointed to Ian Poulter's out-of-this-world putting exhibition Saturday afternoon in four-ball, when he made five straight birdie putts to help himself and Rory McIlroy defeat the US team of Jason Dufner and Zach Johnson, as the starting point of the European comeback.
The Europeans won the first five singles matches out of the gate Sunday afternoon. NBC's Dottie Pepper, who was reporting from on the golf course, said that early success just took the pro-US crowd right out of their element. As the US lead shrunk, the European fans got louder.
---