Baltimore Orioles: For baseball's Cinderella, has midnight finally struck?
After losing a heartbreaker Wednesday, the Baltimore Orioles must beat the New York Yankees twice in a row in Yankee Stadium to avoid elimination. But don't count them out yet.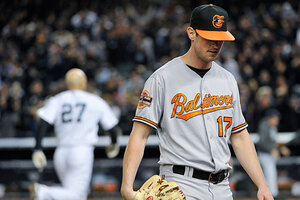 Bill Kostroun/AP
For most of the baseball season, the Baltimore Orioles surprised everyone with their resiliency, their ability to win clutch games, and their fearless play.
Now, the Orioles have their backs against the wall.
On Wednesday night, New York Yankee left handed power hitter Raul Ibañez, pinch hitting for a struggling Alex Rodriguez, hit two home runs. The first tied the game in the ninth inning; the second was a walkoff blast in the bottom of the 12th inning.
Down 2 games to 1 in the best-of-five American League Division Series, the Orioles have to win Thursday in order to play again on Friday night to move on to the American League Championship Series.
Can they pull it off?
"Absolutely, they can," answers Ed Randall, host of Ed Randall's Talking Baseball show on New York's WFAN radio and host of Sirius XM radio's MLB Home Plate show. "These guys have been resilient all year there is no reason to think that losing on Wednesday put a dagger in their heart."
To win tonight, Randall says the Orioles will have beat up on Yankee right-handed starter Phil Hughes (16-13, 4.23 earned-run average). Hughes has been far from consistent this year, with the Yankees not certain whether they will have the dominant pitcher he can be or the one who gives up too many home runs.
---