NCAA tournament 2013: Harvard beat New Mexico? What 'Madness' might Friday bring?
The West region's 14th seeded Crimson shocked the third seeded Lobos late Thursday night. Another 16 games are scheduled to tip off Friday as the tournament field gets pared down 32 teams by the end of the day.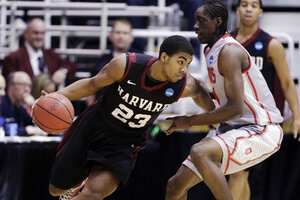 Rick Bowmer/AP
Now that the appetizer of the 'First Four' portion of the NCAA men's basketball tournament is complete, the full effects of 'March Madness' are being felt.
Across the Charles River from the Boston newsroom of the Christian Science Monitor, they're lustily singing 'Ten Thousand Men of Harvard' in Cambridge as the Crimson men's basketball team won its first ever NCAA tournament game Thursday night.
Harvard upset third seed New Mexico, 68-62, in the second round of the West region in Salt Lake City. The 14th seeded Crimson will next play sixth seed Arizona on Saturday.
The Harvard win followed near upsets of West region top seed Gonzaga by Southern and East third seed Marquette by Davidson, also on Thursday.
Going into this year's tournament, many college basketball experts looked at the field and believed a number of teams have a chance to make their mark. A handful of past champion coaches think up to 30 teams in the field have a shot to make the Final Four.
Even President Obama has a second- and third-seeded team along with two top-seeded teams, Indiana and Louisville, in his bracket's Final Four. And any number of brackets across the country will have all four No. 1 seeds reaching Atlanta at the beginning of next month.
The possibility exists for more upsets on Friday as the NCAA tournament provides some interesting match-ups.
---