Rutgers athletic director is out amid furor over brutish coach. What lessons?
Friday's resignation of Rutgers Athletic Director Tim Pernetti is the fourth departure since a video surfaced of basketball coach Mike Rice meting out verbal and physical to student players. Some expect a broad ripple effect, as colleges beef up sports oversight.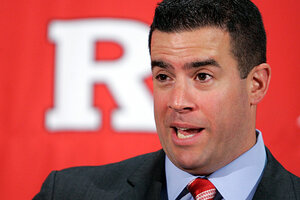 Mike Derer/AP/File
Rutgers Athletic Director Tim Pernetti resigned Friday, and the university's governing board gave its full support to President Robert Barchi in the wake of Wednesday's firing of basketball coach Mike Rice for abusive treatment of players.
Pernetti's resignation followed the resignations of an assistant basketball coach and interim general counsel John Wolf, who had been involved in advising Pernetti when the videos of Rice's behavior surfaced last fall.
Questions remain about the specific reasons a group of university officials and outside consultants did not fire Rice in the fall, but already lessons are emerging that university officials around the country should take to heart, various sports and higher-education sources say.
"This will be a whole new area of policy – this will ripple through college sports: There will be zero tolerance for physical abuse," says Tom McMillen, chairman of the Intercollegiate Athletics Workgroup of the University of Maryland's Board of Regents and a former basketball player. If governing boards of universities don't already oversee athletics, they need to add that to the host of issues they attend to, and "boards need to be vigilant," he says.
The Rutgers University Board of Governors has such a policy in its bylaws, which include oversight of "the overall development of student athletes." The Monitor attempted to reach the board on Friday through e-mail but did not receive a response.
---