Weekend NBA action brings playoff picture into greater focus
Over the weekend, Indiana earned its first trip to the Eastern Conference final since 2004, while the Spurs schooled Memphis in Game 1 of their Western Conference final.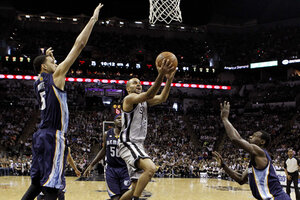 Mike Stone/REUTERS
Pacers eliminate Knicks to advance to conference final
On Saturday night, the Indiana Pacers' Lance Stephenson had 23 points and 10 rebounds to pace his team to a 106-99 victory over the New York Knicks and secure their first trip to the Eastern Conference final since 2004, four games to two. The Pacers will now face the Miami Heat in Miami on Wednesday night, from whom Indiana took two out of three games during the regular season.
The Pacers had a lift in morale, as well as the score, with 12 points from George Hill, who returned triumphantly to the lineup after having been injured earlier last week – courtesy of an elbow from the Knicks' Tyson Chandler.
Indiana out-rebounded the Knicks, 43-36, and used that advantage to significant effect by outscoring New York, 52-20, in the paint. The Pacers also managed to get to the free throw line 46 times (making 34 shots) as opposed to only 18 trips to the charity stripe for the Knicks (where they were a perfect 18-18). This development was enabled by the Knicks committing over twice as many fouls as Indiana.
All five Pacers starters finished in double figures, with Stephenson and Hill being joined by Paul George (23 points), David West (17 points) and Roy Hibbert's 21.
The Knicks' Carmelo Anthony had a phenomenal game, scoring 39 points, and J.R. Smith had a double-double, with 15 points and 10 boards. But foul trouble hobbled the Knicks in the closing period. Iman Shumpert, who with 3 three-pointers in the third period, spearheaded a three-point barrage together with teammates Smith and Chris Copeland (and tying the score at 72 in the third quarter), fouled out after 25 minutes on the court. This also was the case with the disappointing Chandler, who exited with 6 fouls after only 2 points and 6 rebounds on the night and Kenyon Martin, who had more fouls (6) than points (5) in 21 minutes on the floor. Raymond Felton punctuated this disappointment for New York, missing all seven of his shots. His drives inside were invaluable in the Knicks' two series victories, and his non-production was a major factor in this game.
---