Why Tyson Gay scandal is not Marion Jones all over again
Top US sprinter Tyson Gay acknowledged that he has tested positive for a banned substance, rocking the track-and-field world. But the news also points to how much has changed in antidoping.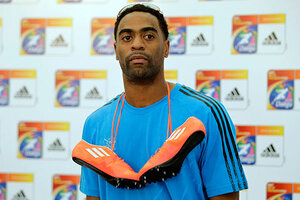 Matt Dunham/AP/File
Ben Johnson, Marion Jones, and ... Tyson Gay?
This weekend, the holder of the American record for the fastest 100-meter time in history – a man who has repeatedly cast himself as an antidoping crusader – confirmed that he has tested positive for a banned substance. Two other prominent Jamaican sprinters, Asafa Powell and Sherone Simpson, also acknowledged (personally or through an agent) that they tested positive for oxilofrine, a banned stimulant.
Taken together, the revelations are being cast as one of the darkest days in track and field, comparable to Johnson being stripped of his 1988 100-meter gold medal for testing positive for steroids or to Jones being stripped of her five medals from Sydney, also for using steroids.
One of the most influential American Olympic journalists, USA Today's Christine Brennan, summed up the mood in the sports world when she wrote Monday: "Mark it down: July 14, 2013, the day that the once-revered sport of track and field took another step closer to not being worthy of our trust, or our time."
But is that the only way to look at it?
To be sure, Gay's positive test is a blow. He had run the three fastest 100-meter times in the world this year and was seen as a serious threat to beat Usain Bolt in the World Championships next month in Moscow.
Moreover, Gay was supposed to be one of the good guys.
---