Mark Kelly, husband of Gabby Giffords, tussles with gun store, sea lion
(Read article summary)
In an eventful few days, Mark Kelly was foiled in his attempt to show how easy it is to buy an assault-style rifle, and he arrived too late to help a sea lion pup in California.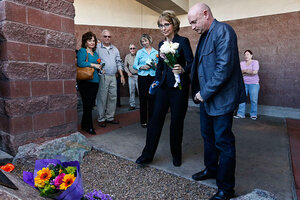 Ross D. Franklin/AP/File
Mark Kelly, the husband of former Rep. Gabrielle Giffords and her partner in launching a gun control group, has had a busy couple of days.
On Monday, the owner of the Diamondback Police Supply gun store in Tucson, Ariz., said he was canceling Mr. Kelly's purchase of an assault-style rifle. Earlier this month, Kelly wrote on Facebook that he purchased the weapon to make the point that gun control laws were too lenient, The Hill newspaper reported.
"Scary to think of people buying guns like these without a background check at a gun show or the Internet. We really need to close the gun show and private seller loop hole," Kelly wrote.
Kelly's wife was among 13 people wounded in a January 2011 shooting in a Tuscon supermarket parking lot that left six dead.
When he and his wife started their gun control organization, Americans for Responsible Solutions, they wrote an opinion article for USA Today saying, "Americans for Responsible Solutions, which we are launching today, will invite people from around the country to join a national conversation about gun violence prevention, will raise the funds necessary to balance the influence of the gun lobby, and will line up squarely behind leaders who will stand up for what's right."
According to the Arizona Daily Star, Diamondback owner Doug MacKinlay posted a notice on his Facebook page Monday saying he had canceled the gun purchase March 21 and sent a full refund to Kelly before he could take possession of the rifle.
---