Iran debate: Who owns the revolution?
Hard-liners play tough to prevent reformist gains in March 14 vote.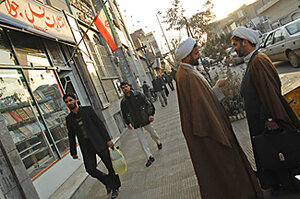 Scott Peterson/Getty Images
Rival factions contesting Iran's parliamentary elections next week are breaking longstanding taboos and using once-sacred icons to challenge opponents in a vote that is likely to set the tone for the presidential contest in 2009.
All sides say they revere Iran's 1979 Islamic Revolution and are devoted to the ideals of its leader, Ayatollah Ruhollah Khomeini. But who truly carries that revolutionary torch is the focus of vicious debate in which rivals accuse one another of being "enemies" of the regime bent on deliberately destroying it.
Iran's conservative camp, known as "principlists" and including allies of President Mahmoud Ahmadinejad, is deeply divided but likely to keep its majority in the 290-seat parliament, or majlis, in the March 14 vote. The number of reformist candidates – relative liberals who want to ease social restrictions and end isolation from the West – has been limited, as hard-liners aim to prevent their political comeback.
The discourse shows the profound confidence of Iran's most radical right-wing factions, analysts say. But their unbridled effort to keep hold of every lever of power in Iran is also causing them to break many long-held rules.
"In 29 years, they didn't have the courage to talk this way," says Grand Ayatollah Saanei, a high-ranking cleric, speaking in the religious center of Qom. "But now [hard-liners] have full control and they have no competitors inside or outside Iran."
---