On Ecuador's border, FARC rebels visit often
The Ecuadorean Army says it destroyed 47 FARC camps in its territory last year. On Friday, Latin American leaders backed away from a war.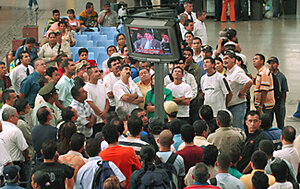 Luis Benavides/AP
Residents of dozens of tiny villages that dot the Ecuadorean side of the Putumayo and San Miguel Rivers can usually tune into a FARC rebel radio station that plays revolutionary ranchera music and calls civilians to take up their fight.
But the station has been eerily silent since Colombia bombed a guerrilla camp near here in a cross-border raid last week.
It doesn't mean, residents say, that rebels of the Revolutionary Armed Forces of Colombia (FARC) are gone. Locals here say that Colombian rebels constantly slip over the border and set up camp in the thick jungle that covers the area.
Luz Amparo Campos runs a small restaurant out of a neat, brightly painted shack in this town of a few hundred homes. From her kitchen window, she can see her native Colombia across the muddy water of the San Miguel River that marks the border.
Ms. Campos was driven from Colombia six years ago, slipped over the border, and settled here. She shakes her head at the irony. "I try to get away from the war there and I come to find them [the rebels] here!" says Campos.
A tense diplomatic standoff last week between Ecuador and Colombia had threatened to escalate into a full-fledged regional conflict. It originated in one of those rebel camps deep in the Ecuadorean jungle, where the FARC's No. 2 leader had been sleeping and was killed along with 23 others in Colombia's March 1 raid.
---