Reporters on the Job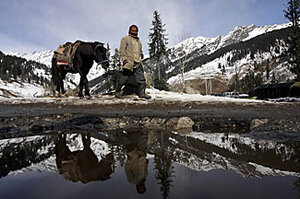 Anil Dayal/Reuters
• Prattle On, Panda Pundits: Correspondent Jonathan Adams, who normally reports from Taiwan but is now in Beijing, noted while reporting today's panda story that China's TV media are markedly more sedate than Taiwan's.
"The island's free-market media sports a handful of 24-hour cable news stations that compete fiercely for viewers' eyeballs with splashy graphics, screaming headlines, and often-looping footage running full-screen behind fast-talking TV anchors," he says.
Other TV news coverage looks boring by comparison, Jonathan says. "That goes double for China's wooden, state-run CCTV. But you can tell it is changing. CCTV-4's panda coverage included breathless coverage from reporters at the Chengdu airport and panels of in-studio experts trying their best to maintain a running panda banter."
---