Ukraine's leaders bicker as economy burns
Not long ago, they were Orange Revolution allies. Now, Tymoshenko and Yushchenko despise each other.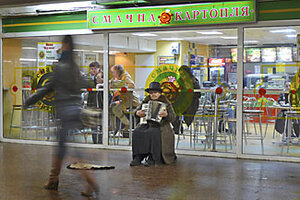 Efrem lukatsky/AP
Rearranging the deck chairs on the Titanic.
That's how many Ukrainian observers describe the very public, escalating power struggle between liberal president Viktor Yushchenko and his erstwhile ally in the Orange Revolution, the fiery populist prime minister, Yulia Tymoshenko.
To many observers, Ms. Tymoshenko and Mr. Yushchenko are already fighting presidential elections that are nearly a year away and are using their official positions mainly to undermine any decisions taken by the other. In recent weeks, both have issued statements blaming the other for the country's galloping financial crisis, which has seen the plunge in value by nearly 60 percent, Kiev's main stock market fall by 75 percent, and most banks cease lending or even returning depositors' cash.
Dirty political laundry on national TV
In an internal memo leaked to the Ukrainian media late last month, Ukraine's finance minister, Viktor Pynzenyk, warned that the economy is on the verge of collapse: "We have entered an extremely serious and deep crisis. Ukraine's [economic] situation is the worst in the world."
Following the memo's publication, Yushchenko took to the airwaves to blame it all on the "populism" of Tymoshenko, whose 2009 budget incurs a huge deficit to pay public sector wages, pensions, and other social obligations. As a result of her "irresponsibility," Yushchenko charged, "salaries, pensions, and stipends will no longer be paid.... all this can bring about a social catastrophe."
Tymoshenko appeared on TV the next day to accuse the president of spreading "falsehood, panic, and hysteria. Everyone can see that the president is not the kind of leader they need when Ukraine is reeling under the blows of the global economic crisis."
---