Paving the way: A Kosovo hero's path from rebel to road-builder
Fatmir Limaj builds hope with new roads.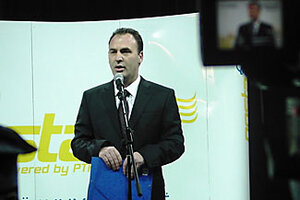 Robert Marquand/ the christian science monitor
There aren't many places in Europe where a minister of transport is a national hero whose name is sung in folk songs.
But Kosovo is not an ordinary place. The country, a year old last month, is where Fatmir Limaj is succeeding at a job everyone else here has failed at: building roads.
Mr. Limaj is in many ways a Kosovo story. In 1998, he took up the gun as a rebel leader, won the first real Kosovo Liberation Army battle against Serbs, and became known as "Commander Steel." He was arrested and later acquitted at The Hague for war crimes. Today, he wears dark suits and patent leather shoes, and cuts ribbons – and deals – over fresh concrete and macadam.
In 2007, when Limaj became transport minister, only five miles of four-lane highway existed in Kosovo. Last year, he built eight miles, instituted 24-hour work sites, and is now overseeing the construction of eight additional miles of four-lane roadway.
Kosovars love it. Limaj views the transport ministry almost as a personal ministry, a calling to build a country. He's read Barack Obama's "The Audacity of Hope," and seems to offer a "Yes, we can" message to cynical Kosovars weary of unmet promises and muddy roads. With rebel credentials in the majority-Albanian society, Limaj has knocked heads, found consensus with contractors, and mobilized a workforce. He regularly drops in on sites at midnight or later. Last year, a TV crew filmed him directing work at 3 a.m., showing the country that change was indeed under way.
---