US missionaries: Lessons from Haiti adoption or 'child kidnapping' case
Experts in child kidnapping and global adoption hope that the Haiti incident involving American Baptist missionaries provides lessons for future disasters.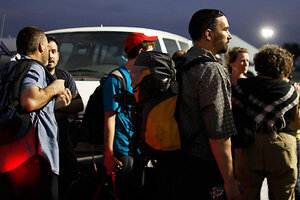 Javier Galeano/AP
The main drama for American missionaries arrested on kidnapping charges in Haiti may have come to an end Wednesday, when a judge freed eight of 10 from jail.
The case divided the world in two camps: those who saw the Americans as potential child traffickers and those who saw them as do-gooders unfairly punished for trying to help victims of the earthquake.
Now that they are free, experts in kidnapping and global adoption hope that the incident provides lessons about caution and patience in future disasters.
"There is a universal urge to help children. That universal urge is so much more powerful when children are in a crisis," says W. Warren Binford, an assistant professor of law and an expert on international children's rights at Willamette University College of Law in Oregon. But this case shows, she says, how "important it is not to act on those instincts, without considering the long-term consequences."
Eight of 10 missionaries, who largely come from two Baptist churches in Idaho and were arrested for trying to take 33 Haitian children to the Dominican Republic on Jan. 29 without the right paperwork, were freed Wednesday without posting bail, after a judge decided theirs was not criminal intent. "The parents of the kids made statements proving that they can be released," Judge Bernard Saint-Vil told the Associated Press.
---
Follow Stories Like This
Get the Monitor stories you care about delivered to your inbox.