Hamas assassination: If Mossad did it, Israel wonders if it was worth it
The Hamas assassination in Dubai -- which police in the United Arab Emirates say they believe was organized by Israel's Mossad -- has Israelis wondering of the costs of targeting the Jewish state's enemies abroad outweigh the benefits.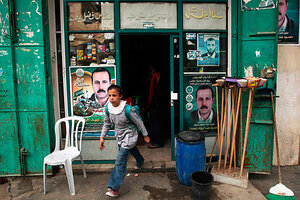 Mohammed Salem/Reuters
The Hamas assassination in Dubai has led to growing accusations about the hit squad allegedly responsible for the death of Hamas leader Mahmoud al-Mabhouh. Those charges have recast what seemed like a clean getaway into a sloppy operation – with all fingers pointing to Israel's Mossad.
The Dubai police yesterday added some 15 names to the list of suspects in the assassination, at least 10 of whom share the names of Austrailan, Irish, and English immigrants to Israel. While Israeli officials keep mum, and local analysts have avoided explicitly assigning responsibility to Mossad, there's a debate under way about whether the death of a man who Israel alleges was brokering arms deals for Hamas was worth the diplomatic and public relations fallout.
---