Iraq election: In Syria, disillusioned refugees trudge to the polls
Candidates in the Iraq election have focused attention on Syria, which has the largest number of Iraqi expatriates. Sunni candidates in particular are seeking out extra support, given Iraq's Shiite-dominated politics.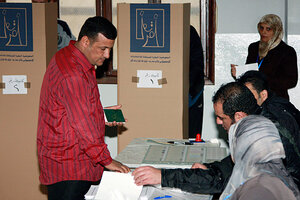 Bassem Tellawi/AP
As Iraq gears up for Sunday's election, a major litmus test in the country's nascent democracy, many Iraqi expatriates here are disillusioned with the process. But a fair number headed to the polls anyway during a three-day voting window that began Friday.
"I do not know if I will ever be able to go back, but I am interested in the future of my country," said Fadwa Saidiya, a refugee from Baghdad who says she voted for current Iraqi Prime Minister Nouri Al-Maliki.
Indeed, polling stations in Damascus reported good turnout today, the first day for expatriates in 16 countries outside Iraq to cast their ballots. Because Syria is home to the largest population of Iraqis outside Iraq, candidates have focused their attention here. The Sunni minority in Iraq is especially interested in out-of-country voting, believing that many of those who fled to Syria are Sunni and will act as a counterweight to votes cast for Shiite parties.

In the suburb of Jaramana, voters say they are rooting for the secular Iraqiya movement, seen as the best of a bad bunch.

"Iraq has been torn apart by religious and ethnic tensions," says Ahmad, a former security guard from Baghdad. "We need a change of government and I think this is our best option."
---
Follow Stories Like This
Get the Monitor stories you care about delivered to your inbox.