Arizona immigration law prompts Mexico to extend repatriation aid program
In response to the controversial Arizona immigration law, Mexico extended a repatriation program to help ease the transition of illegal migrants back home. The governments says the Arizona law could lead to a flood of returnees when it goes into effect, but most Mexicans are skeptical.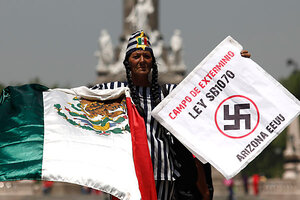 Claudio Cruz/AP
Mexico City and Cartagena, Colombia
In response to the controversial new Arizona immigration law, Mexico is extending a program that helps citizens living illegally in the US return home.
Need medical attention? Need something to eat? The website of the Mexican National Migration Institute illustrates how the voluntary repatriation program works.
But few in Mexico are expecting a flood of new returnees. Last year about 500,000 Mexicans were repatriated from the US, an average annual number, according to National Migration Institute (INM).
IN PICTURES: The US/Mexico border
While the country is spending some money to ease the transition home for Mexicans who want to return, most with steady jobs in the US are unlikely to sign up for the program.
"There will not be a massive return, unlike what is expected," says Rodolfo Cruz, a professor in the population studies department at the College of the Northern Border in Tijuana (COLEF). "In Mexico they do not have employment options, and they are well aware of this…It would be much more expensive for them to return [to Mexico]. Because they'll return, spend money, not find any [work] or find work that does not meet their economic needs and will go once more to the United States."
---