Amanda Knox: 'Shocked' by testimony of convicted Ivorian
Amanda Knox told Ivorian Rudy Guede, who is serving a 16-year sentence in Italy for his own role in the murder of British college student Meredith Kercher, to 'tell the truth.' Amanda Knox is appealing her conviction of murder.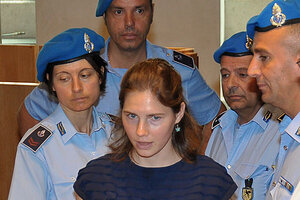 .Stefano Medici/AP
American student Amanda Knox, appealing against her conviction for murder, clashed in an Italian court on Monday with one of the two men found guilty with her of killing her British flatmate.
Knox, 23, and her former Italian boyfriend Raffaele Sollecito have been sentenced to 26 and 25 years in jail respectively for the murder of Meredith Kercher, who was found half-naked with her throat slit in the flat she shared with Knox in the university city of Perugia.
Rudy Guede, an Ivorian who is serving a 16-year sentence for his own role in the murder, denied evidence from a convicted child killer, Mario Alessi, that Guede confided to him while they were in prison together that Knox and Sollecito had nothing to do with the killing.
Guede, brought into the Perugia courtroom handcuffed and dressed in jeans, said Alessi's evidence was "all lies", adding that they had never discussed the murder and that Alessi was clearly being manipulated by others.
He said he still stood by the contents of a letter he wrote to his lawyers last year referring to "the horrible murder of a splendid girl by Raffaele Sollecito and Amanda Knox."
---