Flash mobs or splash mob? UK man arrested for planning water pistol fight.
Flash mobs that lead to violence and property destruction are a legitimate concern for governments. But is arresting someone for planning water pistol fight going too far?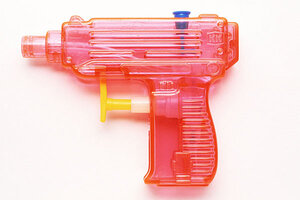 photolibrary.com/Newscom/File
Police in Colchester, Essex, England, have arrested a man and charged him with under Britain's Serious Crime Act of 2007 after he allegedly used social media networks to plan a water gun fight.
In a post on the Essex police website titled "Police reassure residents they are working to keep county safe," Essex law enforcement reported that the unnamed 20-year-old allegedly used his BlackBerry to encourage Colchester residents to gather for a city-wide bout of water-flinging. He was released on bail and is scheduled to appear in court on September 1.
The arrest comes a week after several cities in England were rocked by widespread rioting, looting, and arson, much of which appears to have been organized via instant messaging and other social media platforms. Unlike other counties, Essex has not seen any large-scale unrest.
The man's arrest has prompted outrage on Twitter, with many asking if the report was a joke. Essex police responded via Twitter that "there may be more involved" in the case, but did not elaborate.
---