With wildlife corridor, Turkey tackles an ecological crisis
In Turkey, where conservation tends to get short shrift, environmentalists are excited about a plan to create a 58,000-acre wildlife corridor in hopes of bolstering dwindling populations of wolves, bears, and lynxes.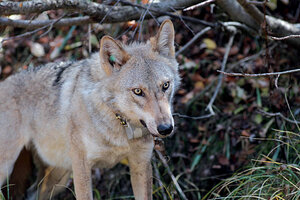 Courtesy of Kuzeydoga
"This is an Armenian plot," mutters a farmer as ecologists explain what may be Turkey's most ambitious wildlife conservation project ever, right in his backyard.
But in fact, the government is behind it. This summer, officials expect to begin the reforestation of a 58,000-acre corridor of land that will connect the isolated Sarikamis National Park and its shrinking population of wolves, bears, and lynxes to a swath of territory in the Caucasus.
In a country where environmentalists are often greeted with official hostility and public indifference, the plan has generated rare optimism among scientists warning of an impending ecological crisis.
"This is the biggest landscape-scale active conservation project ever undertaken in the country," says Cagan Sekercioglu, a professor of biology at the University of Utah who proposed the corridor. "We're hoping this will reduce human-predator contact and encourage these animals to access much larger and more resource-rich forests along the Black Sea and Caucasus."
But near the route of the corridor, which will run close to the border with Turkey's historic enemy Armenia, ecologists got mixed reactions from villagers. "Why can't the government just fence the wolves inside the park?" asked one sheep farmer.
Onder Cirik, projects coordinator for KuzeyDoga, the wildlife charity founded by Mr. Sekercioglu that has spearheaded the corridor project, says that ecological awareness is poor. "People in Turkey have no idea of the importance of biological diversity and of how fast it is being lost."
When it comes to wildlife, Turkey has a lot to lose. Sitting astride one of the world's most biologically diverse nontropical regions, it hosts more known endemic species than all of Europe combined, with some 3,000 plants unique to the country.
---