Amid Kenya clashes, growing calls for calm
International mediators are arriving in Kenya to help end the political standoff after last week's disputed vote.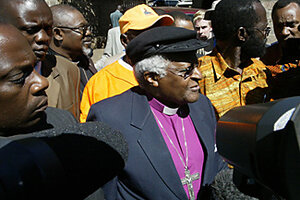 Sayyid Azim/AP
Johannesburg, South Africa
In the center of Kenya's capital, Nairobi, police dispersed opposition protesters Thursday with water cannons and tear gas.
Out in the suburbs, a growing number of newly arrived African statesmen – from Archbishop Desmond Tutu to Sierra Leone's President Ahmad Tejan Kabbah – met with Kenya's two top leaders to help find a peaceful resolution to the ethnic violence that has killed more than 300 people since last week's disputed presidential vote.
And in their respective headquarters, populist opposition leader Raila Odinga and incumbent President Mwai Kibaki continue to dig in their heels and demand that their rival step aside.
Yet, amid the ethnic clashes, there are a few signs of hope that the crisis that followed Kenya's Dec. 27 national elections might be moving toward resolution.
The very fact that police used water cannons, rather than live ammunition as in the past, shows a restraint in the government's use of force. And the presence of potential mediators gives both leaders a face-saving way to soften their positions and seek middle ground, experts say.
"We want [Mr. Kibaki] to own up to the fact that the elections were not right, they were rigged, and even the chairman of the Election Commission Samuel Kivuitu [said] that they were rigged," says Najib Balala, an opposition member of Parliament. "So we must sit down and negotiate. We are ready to negotiate, if Kibaki and his people can admit the elections were rigged. So far they refuse."
---