In Kenya, a key role for foreign observers
International observers have been criticized for doing too little – and too much – in the wake of Kenya's flawed Dec. 27 vote, which touched off a wave of ethnic killings.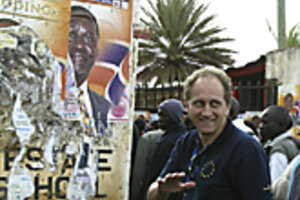 Noor Khamis/Reuters
If ever there were a vote where foreign election observers made an immediate and significant difference, it was Kenya's Dec. 27 presidential election.
But in a vote as tightly contested as Kenya's, any allegations by the hundreds of unpaid international volunteers who fanned out across the country to watch for fraud, vote tampering, or intimidation can make a huge difference in the outcome – and have explosive consequences.
Given the ethnic violence that engulfed much of Kenya in the wake of the disputed vote, some experts are suggesting that foreign election observers overstepped their role by proclaiming doubts about the process before the final tally was announced by Kenya's electoral authorities. Others say the observers didn't go far enough in their condemnation of alleged irregularities.
"We are always mindful to stick to the narrow mandate, and comment only on the election process," says Alexander Lambsdorff, the chief election observer for the European Union (EU). "I want the facts to speak for themselves."
Narrow mandate or not, Mr. Lambsdorff issued strong comments about the flawed process of the Dec. 27 vote, noting irregularities such as differences of vote counts reported at polling stations and those reported by the Election Commission and EU polling observers being refused the right to view vote counts at certain polling stations.
Lambsdorff stopped short of calling the Kenyan vote "rigged," but he has said he has "doubts" about the final result that declared incumbent President Mwai Kibaki the winner.
---