Fresh protests as Kenya crisis grinds on
Opposition supporters began what they said would be three days of nationwide demonstrations Wednesday.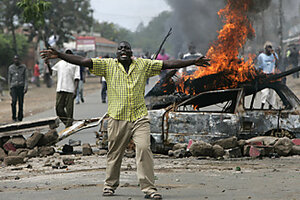 Darko Bandic/AP
Police in cities throughout Kenya used tear gas and batons Wednesday to quell opposition supporters on the first day of a three-day nationwide strike against the government of President Mwai Kibaki.
Kenya's political crisis – now in its third week after a disputed Dec. 27 election touched off a wave of ethnic violence that killed more than 600 people and displaced more than 250,000 – shows few signs of ending soon.
Populist opposition leader Raila Odinga maintains that Mr. Kibaki stole the election, and numerous mediation efforts by top global statesmen have failed to bear fruit. Yet the solution may come from a combination of internal fatigue and international pressure on Kenya's two top political leaders who, until now, have seemed unwilling to budge.
"There's no doubt Kenya needs a constant internal dynamic and international pressure to get these two sides to the negotiation table," says Francois Grignon, head of the Africa program for the International Crisis Group in Nairobi. "Had it not been for a robust statement of the US, the EU, and international election observers, and the similar reports of domestic observers, we might have a situation like under the days [of former President Daniel arap Moi], where there was blatant rigging, but there was no strong stand by the international community."
---