Tension in Zimbabwe after opposition claims victory
The Movement for Democratic Change is trumpeting a huge win and accusing Mugabe's government of delaying results.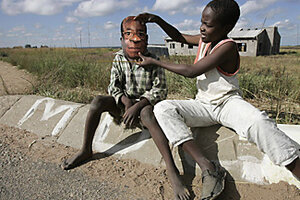 Philamon Bulawayo/Reuters
Johannesburg, South Africa; and Harare, Zimbabwe
Zimbabweans remained calm two days after Saturday's elections, but high expectations of an opposition victory have increased the dangerous potential for postelection violence, observers say.
On Monday, the Zimbabwe Electoral Commission (ZEC) began announcing parliamentary election results, allotting 25 seats each to the opposition Movement for Democratic Change (MDC) and 26 to the ruling ZANU-PF of President Robert Mugabe, while MDC spokesmen announced their own set of results, gathered by their own polling agents at 128 of the 210 parliamentary constituencies around the country. By contrast, the MDC predicts 60 percent of the parliamentary vote, with ZANU-PF gaining only 30 percent.
The MDC is now crying foul, accusing the government of intentionally delaying the release of results.
"It is now clear that there is something fishy. The whole thing is suspicious and totally unacceptable," said MDC spokesman Nelson Chamisa.
Britain, Germany, and the EU called for faster reporting Monday to ease tensions, and the United States urged Zimbabwe to "do the right thing" as it counts the votes.
---