Zimbabwe: Mugabe's opposition softens its stance
The MDC is now forced to mend rifts with smaller parties in a bid to unite against President Robert Mugabe's alleged effort to rig the March 29 elections.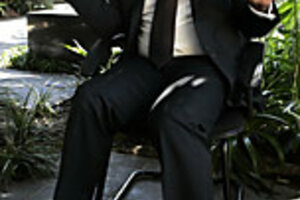 Themba Hadebe
Bulawayo and Harare, Zimbabwe
After weeks of insisting that it had won Zimbabwe's March 29 elections outright and that Robert Mugabe's government would be pressured to accept defeat, the main opposition party, the Movement for Democratic Change (MDC), has begun to reach out to smaller parties to form a unified front ahead of a possible runoff against Mr. Mugabe.
The opposition's change of strategy may be the result of an increasingly polarized environment, where government officials have accused MDC leader Morgan Tsvangirai of treason, as well as a belated realization that the MDC has little to no leverage over the Mugabe regime, which controls all levers of power in Zimbabwe.
Yet the MDC is not the only one courting smaller parties. Mugabe's ruling ZANU-PF seems to have had a head start, laying the groundwork for a possible comeback after the humiliating vote.
Paul Siwela, head of the smaller Federal Democratic Union party says he has met with ZANU-PF officials recently, and he believes that the only solution now is for Mr. Tsvangirai to give up his insistence that MDC won the election outright.
Instead, he urges Tsvangirai to call for an all-parties conference to remove obstacles to a behind-the-scenes deal to transfer power away from Mugabe, including the fears of ZANU-PF officials of being prosecuted for human rights violations, corruption, and the violent seizure of white-owned farms since 2000.
---