Fueling Liberia's future with hope
Once exposed to the nation's worst brutality, former aid worker David Parker has returned to run a business.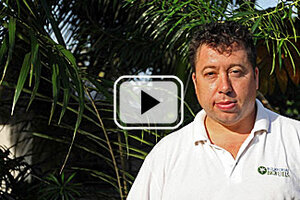 Tugela Ridley
David Parker has seen the worst of Liberia. As a young aid worker who arrived in Monrovia 12 years ago, he got to know the warlords, mercenaries, child soldiers, and businesspeople who kept the brutal conflict here running on and off for more than two decades.
Given the choice, many who have witnessed the horrors of Liberia at war would get away and stay away. But in 2006, Mr. Parker and his Liberian wife came back – with high hopes for the country. In the intervening years, Parker had soured on what he saw as the waste of self-serving bureaucracies. "A billion dollars a year [the United Nations] spends here and we haven't even got decent roads," he points out as he bumps over the potholes in his 4-by-4.
So this time, he is in Liberia for business, to rebuild the country through investment rather than donations.
"There is an opportunity for Liberia to pull itself out of decades of economic disaster," says the Briton. His company, Equatorial BioFuels (EBF), has taken over the 36,000-acre Palm Bay plantation and plans to invest up to $10 million initially to rehabilitate the estate and begin producing palm oil industrially again. This places Parker, EBF's chief operating officer, among the first wave of private investors willing to put money into a post-war, democratic Liberia.
But first, the past has to be dealt with. Last month ,Parker handed over $85,000 to 522 former plantation employees to settle grievances dating back to 1980, long before he or his company set foot in Liberia. The sums may not sound like much, but most of Liberia's estimated 3.6 million people earn only $130 a year. Judging by the smiles on the aging workers' faces as they collected their checks, the money was welcome.
---
Follow Stories Like This
Get the Monitor stories you care about delivered to your inbox.