African Union calls for unity government in Zimbabwe
Zimbabwe's opposition rejects calls for a unity government, however, citing perceived bias of mediator, South African President Thabo Mbeki.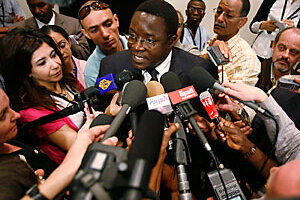 Asmaa Waguih/Reuters
JOHANNESBURG, South Africa
In its most strongly worded statement on Zimbabwe thus far, the African Union (AU) called on President Robert Mugabe to form a government of national unity – a power-sharing arrangement – with his chief rival, Morgan Tsvangirai.
The AU statement, which fell short of the full condemnation of Mr. Mugabe sought by some African nations, such as Nigeria, Botswana, Kenya, Liberia, and Senegal, expressed concern over the violence during the three-month-long election process and called on South Africa to continue its work in mediating the political crisis.
Neither Mugabe nor Mr. Tsvangirai's party, the Movement for Democratic Change (MDC), expressed much enthusiasm for a unity government, with Mugabe's spokesman telling reporters in the Egyptian city of Sharm el-Sheik that Zimbabwe would not adopt the "Kenyan way" of negotiating a power-sharing agreement. "Kenya is Kenya. Zimbabwe is Zimbabwe," said George Charamba, Mugabe's spokesman. As for Western critics, Mr. Charamba said, they could "go hang a thousand times."
---