Zimbabweans detail abduction spree
Fresh details of recent abductions, beatings, and forced confessions of Zimbabwe's opposition leaders and civic activists emerged Tuesday during a press conference.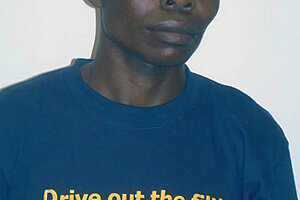 Courtesy of the Movement for Democratic Change
JOHANNESBURG, South Africa
The men came for Bothwell Pasipamire just after midnight on Dec. 13, armed with pistols. With his wife screaming, they pushed him into a brand-new white Toyota pickup truck, and took the young newly elected councillor of a small rural town on what he thought would be the last drive of his life.
For the next three days, Mr. Pasipamire would be beaten, tortured, and forced on camera to beat a mutinous Zimbabwe army soldier, and then confess to various crimes against President Robert Mugabe's government, until he was finally allowed to escape by sympathetic intelligence officers.
His story – told to reporters from the safety of Johannesburg, South Africa, as civic activists and fellow members of the opposition Movement for Democratic Change (MDC) face trial for treason this week in his native Zimbabwe – speaks volumes about the brutal lengths to which Mr. Mugabe's ZANU-PF party is willing to go to stay in power, nine months after losing national elections to the MDC.
"The ZANU-PF, they are trying to cause fear within the people of Zimbabwe," says Mr. Pasipamire, speaking with the Monitor at a Johannesburg hotel. "For example, I am a town councillor. People will say, 'If a councillor is abducted, eh! What about myself?' "
---