Hutu rebels drop guns, return to Rwanda
Rwanda's Army is flushing FDLR fighters out of Congo.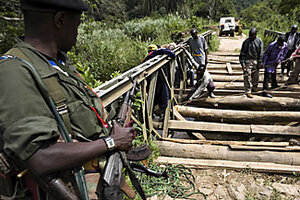 Finbarr O'Reilly/Reuters
Joseph Karege wanted to give up his gun and come back to Rwanda long before the tide turned against him and his fellow Hutu militiamen.
Until last week, Mr. Karege was a member of the Democratic Forces for the Liberation of Rwanda (FDLR), a Rwandan Hutu militia accused of committing the 1994 genocide of more than 800,000 Tutsis and moderate Hutus. Millions of Hutus, afraid of reprisals, fled to the Democratic Republic of Congo just as the genocide ended; they have been hiding in the inhospitable jungle there ever since.
Last month, Rwanda – which considers the FDLR an existential threat – announced it had sent troops into Congo to get the rebels out once and for all.
Working together with the Congolese army, the combined troops launched a joint military offensive against the FDLR, hoping to drive the remaining 6,000 fighters out of the bush and across the border to Rwanda, where the Tutsi-dominated government promises them a fair chance at a new life.
As the operation nears its end – Congolese officials have said the Rwandan soldiers must leave by Feb. 28 – the numbers suggest it may be working.
Pace of surrender quickens
More than 320 former FDLR soldiers have been disarmed since the joint mission started on Jan. 20, according to numbers from the UN mission in Congo, known by its French acronym, MONUC. That's roughly half of the number who deserted in all of 2008. More than 620 of their family members have been sent back to Rwanda.
---