Is South Africa about to become more 'African'?
Populist Jacob Zuma's expected victory in Wednesday's presidential poll unnerves some well-to-do South Africans, but others are drawn to his commitment to the traditional value of 'ubuntu.'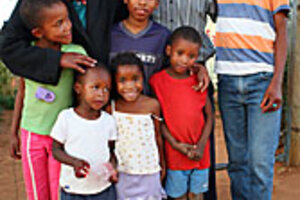 Melanie Stetson Freeman/Staff/FILE
Rising crime, crumbling roads, pernicious corruption, and landslide victories for the ruling party in charge: these are the signs that South Africa – so "First World" at first appearance – is now on the decline.
But the one complaint that seems to top them all here these days is that the country is becoming more "African."
That particular gripe usually comes from well-to-do South Africans – white and black – who are worried about the trajectory of the country once populist leader Jacob Zuma takes power after he wins Wednesday's presidential election, which he is all but certain to do.
It's a statement that conjures the frenzied dysfunction of Nigeria, the brutal despotism of Zimbabwe, the power-madness of Kenyan politicians, and the genocidal civil wars that strike Rwanda and Sudan's Darfur.
Indeed, with Mr. Zuma – a man with a grade-school education, a polygamist, who has definitely tilted his party away from the monied suburbs and toward the black African masses – many South Africans are finally coming to grips with what it means to live on the African continent.
Yet a closer look at the values that South African blacks practice at home, and the expectations they have of their leaders, suggests that some of this pessimism – exemplified by Hollywood star Leonardo DiCaprio's sour explanation, "This is Africa," in the movie "Blood Diamond" – is a bit overdone. A truly majority-run South Africa may not operate the way a foreigner or European immigrant would expect, but it is also a culture with its own well-defined approach to culture and justice.
---