In remote north Darfur, an upsurge in clashes between rebels and government forces
JEM rebels, who have seized two key towns, have stepped up the fight to create a 'liberated' zone. Peace talks are scheduled for Wednesday.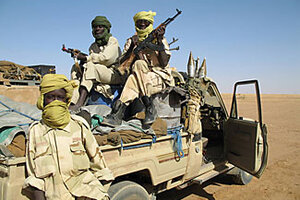 Robert Crilly
Kornoi, North Darfur, Sudan
The eyes of the government soldiers being driven away by their rebel captors showed no sign of fear. Instead, their expression betrayed a mix of exhaustion and relief.
Sitting on top of empty ammunition cases aboard a government truck seized by rebels, many of the young soldiers had the dark skin, long limbs, and ritual scarring of Southern Sudanese tribes.
The presence of the Southern Sudanese soldiers in this remote part of north Darfur is a vivid reminder that Khartoum has few allies here.
Darfuris do serve in the Army. But Khartoum does not trust them, and instead sends in soldiers who have little interest in the six-year war here, and less interest in losing their lives to a better motivated local guerrilla force.
So when guerrillas from the Justice and Equality Movement (JEM) lined up their technicals – pickup trucks mounted with Katyusha rockets and heavy machine guns – around the town of Kornoi, many of Khartoum's soldiers simply turned and ran.
Their mud-brick barracks were left in disarray: camouflage jackets still hung from doornails, dinner bowls littered the floor, and a concrete arms bunker was left filled with bombs for helicopter gunships.
The fighting was over within two hours.
Rebels push hard ahead of rains
The past fortnight has seen an upsurge in clashes as rebels try to claim a "liberated" zone ahead of rains due to begin within a couple of weeks.
In return, government Antonov planes have pounded targets every morning and evening, while rebels seek out whatever cover they can find in Darfur's empty desert.
Peace talks between the two sides are set to resume in Qatar on Wednesday. But with fighting on the increase and trust at rock bottom, few experts hold out hope for any major breakthroughs.
Lt. Gen. Suleiman Sandal, the deputy commander of JEM, says the government had already gone back on earlier promises.
---