Sarkozy admits France made 'serious errors' over Rwanda genocide
President Nicolas Sarkozy admitted that France made 'serious errors' as the Rwanda genocide was planned and carried out. Thursday, Sarkozy became the first French leader to visit Rwanda since the 1994 genocide.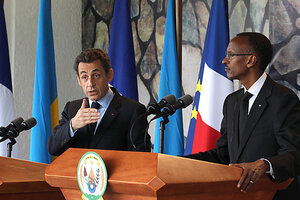 Newscom
After almost 16 years of bitter recriminations over France's role in the 1994 Rwandan genocide, Nicolas Sarkozy became the first French leader since the killings to visit the tiny Central African country.
The sight of a French leader laying a wreath at the main genocide memorial in the capital, Kigali, helps cement closer ties between the two countries after diplomatic relations were restored late last year.
The dominant foreign power in Rwanda prior to the genocide, France's influence collapsed over accusations that leading French politicians at the time helped arm and train those responsible for the killings.
Just over three years ago, Rwanda broke off diplomatic relations after a French judge indicted nine top Rwandan officials for sparking the genocide by shooting down the plane of then-President Juvenal Habyarimana.
Read how land reform could help solve famine, poverty, and even genocide.
Standing next to Rwandan President Paul Kagame, Sarkozy admitted that France had made "serious errors" in failing to appreciate the scale of the genocide planning being carried out by its client regime. He stopped short, however, of apologizing over claims of French involvement in the killings.
More important, though, could be a commitment by Sarkozy to deal with genocide suspects living on French soil.
Since 1994. France has been seen as a haven for suspected genocide perpetrators. Rwandan investigators estimate that up to 100 major genocide suspects are living in the country.
While Sarkozy stressed the independence of the French justice system, he underscored France's determination to track down suspected perpetrators. "We want those responsible for the genocide to be found and punished," Sarkozy said. "If there are any in France, then justice will decide."
---