At last, a court to try Somali pirates
Most navies catch and release Somali pirates. But Kenya's new pirate court, funded by the UN, aims to bring legal clarity to a complex international crime.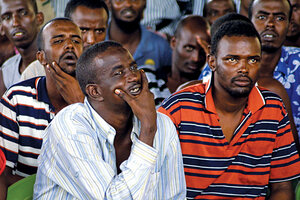 AP
On a busy road within sight of the white sands of Kenya's Indian Ocean beaches, a stone's throw from luxury tourist hotels, a tall, black, barred gate is guarded by a man with an automatic rifle.
Beyond it, up a short driveway, stands the imposing breeze-block building that is now the focus of international efforts to prosecute Somalia's pirates. It is Shimo la Tewa maximum-security prison, 10 miles north of the coastal city of Mombasa.
Last week, the first hearings were held in a courtroom designed to ease the immense pressure on a country leading the way in bringing pirates to justice.
The court was paid for with money from the United States, the European Union, Canada, Australia, and others, channeled through the United Nations Office on Drugs and Crime (UNODC). "This, we hope, is going to go a long way to improving the efficiency of the trials, in a secure, modern environment," says Alan Cole, coordinator of a counterpiracy program at the UNODC office in Nairobi.
---
Follow Stories Like This
Get the Monitor stories you care about delivered to your inbox.