After South Africa's World Cup, xenophobic threats on the rise
South Africa hosted a successful World Cup, but now many citizens are stepping up threats against migrant workers from other African countries. Will there be a repeat of deadly riots of 2008? One employer is building an 'asylum.'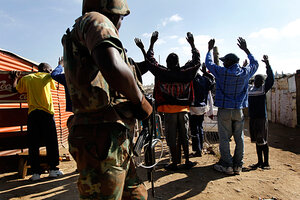 Jerome Delay/AP
Jim Brown, an engineer in the southern-Cape town of Kynsna, South Africa, is adamant.
"Absolutely, the threats are real," he says, referring to concerns that the sort of xenophobic violence that killed scores and displaced tens of thousands in 2008 could start again – and soon. "I started getting warnings about three months ago, and during the World Cup, my guys were told to expect action by the last weekend of the tournament," says Brown, who now operates a renovation and construction business from the industrial area of town.
"It's hard to say who's behind it, but it does seem to be very organized. Even the security guards around here have been warning foreigners that trouble is coming," he says.
During the World Cup, the office that speaks for antiapartheid icon Nelson Mandela raised concern about xenophobic attacks. "The Nelson Mandela Foundation is concerned about rumors surfacing that there are negative sentiments arising toward non-nationals in South Africa.
"We have seen South Africans unite around a common support for African teams during the Fifa World Cup. We hope that this will lead to greater appreciation by South Africans of our place on this continent and that we will show greater solidarity with non-nationals. As Nelson Mandela once said: 'We cannot blame other people for our troubles.' We are not victims to the influx of foreign people into South Africa."
---