In concert, South Africa jazz great Hugh Masekela prays for racial peace
(Read article summary)
Many of South Africa's poorest are spreading rumors that all foreign migrant workers will be chased from their homes or killed after the World Cup. But at a concert this week, South Africa jazz great Hugh Masekela reminded South Africans of the essential humanity of their concept of ubuntu.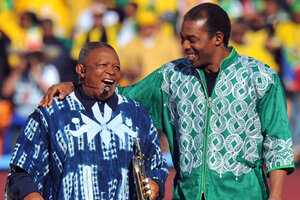 Alexander Joe/AFP/Newscom
Johannesburg, South Africa
For a time, I thought it was just my imagination that tensions were brewing in the townships of South Africa. I would hear a comment from a gardener, a housekeeper, a store cashier, that when the World Cup games are over, South Africa's poorest citizens are going to chase away the people they see as competition – the Zimbabweans, Mozambicans, Malawians, and others who come to South Africa to find work.
But last night, at a jazz concert of all places, I realized that I wasn't alone in my concerns. Hugh Masekela, the 71-year-old freedom activist and jazz trumpeter, took time at the beginning of his concert to dedicate a song to the untold millions of foreigners who have taken refuge in South Africa.
The song was Stimela, coming from the English word "Steam," and it tells the story of all the men from Zimbabwe, Zambia, Mozambique, Swaziland, and Lesotho who have left behind their families and ridden steam-engine trains to South Africa to work in the underground mines. The men work in dangerous conditions, and sleep in filthy hovels, and when they hear the haunting sound of the steam engine whistle, they curse that train for bringing them so far from home.
---