Where does Somalia's Al Shabab suicide attack leave the government?
Tuesday's suicide attack by Somalia's Al Shabab, which killed more than 30 people, including six members of parliament, leaves the transitional government's tenuous hold on power even weaker.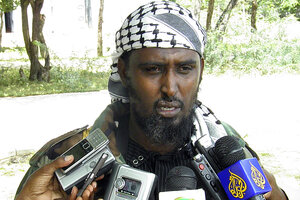 Mohamed Olad Hassan/AP
Johannesburg, South Africa
They came to power as Somalia's best hope for peace, a government composed of traditional Somali elders, clan leaders, and businessmen under the leadership of a religious scholar, President Sharif Sheikh Ahmed.
But if Tuesday's attack on Somali parliamentarians in the heart of their own territory in Mogadishu shows anything, it is that the Transitional Federal Government (TFG) of Somalia – put together at a conference table in Djibouti in January 2007 after a six-month long occupation by Ethiopian forces – is a government in name only.
In the past three years, and under two separate presidents, the TFG has only managed to hold onto a few city blocks, the airport, the seaport, and the presidential palace – and only with support from African Union peacekeepers. The so-called African Union Mission in Somalia (AMISOM) has proved to be a mixed blessing, in fact, because it has relieved the Somali government of its most basic responsibility: to protect itself.
---