Rwanda dismisses UN report detailing possible Hutu genocide in Congo
Rwanda responded angrily to a leaked UN report that said the country's Tutsi-led Army might have carried out a Hutu genocide in the Congo.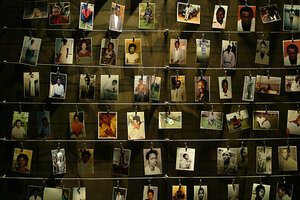 Radu Sigheti/Reuters/File
The Rwandan government has angrily dismissed a leaked United Nations draft report that accuses the country's Tutsi-led Army of committing a possible genocide against Hutus in neighboring Democratic Republic of Congo during the 1990's.
A government statement released today calls the UN draft "malicious, offensive and ridiculous."
But the 545-page report, seen by The Christian Science Monitor, is being widely hailed as a landmark document. It is the first time the UN has comprehensively catalogued serious human rights abuses committed between 1993 and 2003 in Congo, which was the stage for two brutal regional wars. A finalized report is expected to be published in the coming weeks.
While the report charges armies from around the region with serious abuses, the most controversial accusation is that tens of thousands of Hutus, including women, children, and elderly were slaughtered by the Rwandan Army and allied rebels in a series of systematic attacks between 1996 and 1997 that "could be proven as crimes of genocide" if it were to go to court.
The draft was verified by Luc Cote, the Canadian war crimes prosecutor who headed the 34-member UN probe. "All this [evidence] put together, submitted to a court of law, this may constitute elements from which you can infer the intent to destroy a group as such, which is genocide," he today told Agence France-Presse.
---